Nuclear Crisis in Japan: Still happening, pray
Toll Mounts Among U.S. Sailors Devastated by Fukushima Radiation
http://ecowatch.com/2014/01/11/sailors-devastated-by-fukushima-radiation/
HEADLINES
Click here to read the above:
http://enenews.com/steam-coming-from-fukushima-unit-3-reactor-building-observed-multiple-times-this-week
Survey: Families in Fukushima Prefecture still apart after nuclear disaster
Note: Fukushima-related information is regularly covered in our Nuclear Newsreel section on the
front page of our website
. This Fukushima crisis page will be reserved for studies, reports and other in-depth information.
Click here to read the info below:
http://www.nirs.org/fukushima/crisis.htm
November 14, 2013. SimplyInfo.org, one of the best sites providing ongoing coverage of Fukushima issues,
today published an explanation, including numerous photos
, of holes leaking highly-radioactive water found in Unit-1 containment building.
September 13, 2013.
Seventeen international scientists and experts write UN Secretary General Ban Ki-Moon
urging international action on Fukushima crisis.

August 30, 2013.
Decontaminate the Fukushima Decontamination Project
. Presentation by Tokyo City University emeritus professor Teiichi Aoyama details how efforts to decontaminate area around Fukushima are doing little except to enrich nuclear contractors.

March 22, 2013. Video proceedings from the March 11-12, 2013 Symposium on Medical and Ecological Consequences of Fukushima
are now available
.
March 8, 2013
As we approach the second anniversary of the Fukushima nuclear disaster, we've compiled a number of the better and up-to-date articles and studies we've seen, listed below:
From SimplyInfo.org,
Fukushima Year 2, Part 1: Technical Issues
. Very thorough examination on the technical issues experienced at the four reactors, and those issues remaining.
Fukushima Year 2, Part 2: Politics and Protest
.
Fukushima Year 2, Part 3: Health and Environmental Impact
.
Statement from Green Action
: Japan Must Learn from the Lessons of the Fukushima Daiichi Nuclear Power Plant Accident. March 11, 2013
Potential internal radiation doses from inhalation at Fukushima on March 14-15, 2011
. Study for Greenpeace Germany by Dr. Oda Becker, November 2012. WHO report essentially ignored these large early doses. (pdf)
Tepco considers dumping more contaminated water into the ocean; local fishing industry protests.
March 6, 2013. Mainchi
Two years after Fukushima, Japan's nuclear lobby bounces back. But protests continue.
March 8, 2013. Reuters
Fukushima residents still struggling two years after the disaster.
March 9, 2013. The Lancet
Lessons from the disaster.
An interview with award-winning journalist and author of
Countdown to Meltdown
Yoichi Funabashi. March 8, 2013. Asahi Shimbun
Two years on, Safecast continues to provide volunteer radiation data on Fukushima.
March 8, 2013. Asahi Shimbun
A Lasting Legacy of the Fukushima Rescue Mission.
Excellent three-part (with one more to come) series on radiation exposures to U.S. military personnel near Fukushima. Energy Matters blog.
Fukushima residents concerned about effects of radioactive iodine on thyroid.
March 8, 2013. Asahi Shimbun
Flooding complicates cleanup at Fukushima.
March 8, 2013. Reuters
World Nuclear News
graph shows evolution of official Fukushima evacuation/exclusion zones. Click graph to enlarge.
In its August 18-19 edition, the Wall Street Journal published a lengthy essay by Dr. Richard Muller of the University of California, Berkeley. He is also a faculty senior scientist at the Lawrence Berkeley National Laboratory. Dr. Muller argued that health effects from the Fukushima nuclear disaster have been exaggerated and that "the great tragedy" is that Japan closed its reactors. The article is here.
Dr. Muller recently received considerable attention because, as a Koch-Brothers funded climate change skeptic, he has changed his tune and now believes climate change is real and man-made.
In response to Dr. Muller's article, which contained numerous omissions and errors, NIRS sent the following letter to the Wall Street Journal. As of today, we have received no response from the Journal, so we are releasing it publicly now.
Update: The Wall Street Journal published an abridged version of this letter in its August 25, 2012, edition.
August 20, 2012
Dear editor,
Omissions and errors in Dr. Richard Muller's article,
The Panic Over Fukushima
(WSJ, August 18-19, 2012) undercut his theses that the reaction to the Fukushima meltdowns has been unjustified and that Fukushima should not be an argument to stem the use of nuclear power.
First, the consequences of Fukushima were greatly mitigated by one simple factor: the wind, which there typically blows due East—over the Pacific Ocean rather than land. And this was indeed the case for most of the period of the largest radiation releases. In fact, about 80% of the airborne radiation emitted from Fukushima went out over the ocean.
Had the wind been blowing south, say towards Tokyo, millions more people would have been exposed than actually were, to much larger amounts of radiation—500% more—with corresponding increases in mortality and illness.
Even so, casualties are undoubtedly higher than Dr. Muller estimates. For one thing, the risks cited by Dr. Muller are for exposure to "the average man." But buried in the National Academy of Sciences most recent study on radiation risk
is the revelation that women are 50% more susceptible to radiation as men
. And children are even more susceptible. Basing casualty estimates on exposure to men greatly underestimates actual casualties.
Dr. Muller states that there is a 100% chance of contracting cancer with exposure to 2500 rem of radiation and that the typical way of measuring fatal cancers is to assume one cancer—no matter the size of the population—per 2500 rems. That may be true (except that the risks are higher for women and children as noted above, so the numbers must be adjusted). But it is just as true that the risk of fatality from exposure to 1000 rems is also about 100% (or perhaps 99.5+%). 2500 rems is arbitrary. Simply acknowledging this risk would increase casualty estimates two and a half times.
The Denver analogy (that residents of Denver receive higher radiation exposures than most people near Fukushima did) doesn't hold water. Residents of Denver are exposed to gamma rays, they are not exposed to nor do they ingest radioactive elements like the Cesium-137 and Strontium-90 massively released at Fukushima (among many other radioisotopes). While the concept of "rems" does attempt to measure effects rather than amounts of radiation, the fact is that different isotopes affect the body in different ways—radiation does not conform to a one-size-fits-all approach.
It will be some years before we know the true toll from Fukushima. But Dr. Muller appears to be deliberately underestimating its effects now in order to promote nuclear power. And, in this case, all Fukushima proves is that nuclear power is safer when the wind is blowing away from people and the effects of radiation on women and children are discounted. Unfortunately, most nuclear reactors are not sited so fortuitously and deadly radiation does not limit itself to showing up only at stag parties.
Michael Mariotte
Executive Director
August 9, 2012. GE and Hitachi are apparently proud of their destroyed Fukushima reactors. They put a promotional banner over the Unit 4 vessel head, which has now been removed from the reactor building (Unit 4 had no fuel in it at the time of the accident). Click photo for larger image.
* note: all Update times are Eastern U.S. time
UPDATE, December 7, 2011. On November 30, Tepco released a document that acknowledged, for the first time, that fuel in Unit 1 of Fukushima Daiichi had likely melted through the reactor vessel onto the concrete basemat below.
This appears to have set off considerable speculation across the internet that a "China Syndrome" event is inevitable—i.e., that it is impossible to now stop this fuel (or "corium") from melting through the concrete and reaching groundwater, which would set off an enormous steam explosion—or some such disaster.
This is not the case. While there are some problems and unanswered questions with Tepco's document, and as has been the case since the onset of this accident it appears to present a rosier picture of what has happened and continues to happen at Fukushima than is actually the case, the prospects of a new far-reaching disaster appear remote absent something that would cause a new disruption to the cooling water system now in place, such as another major earthquake/tsunami, which certainly can't be discounted. In October, Tepco estimated it would take only 38 hours for fuel to reach the melting point if the cooling system were to fail. l
The Tepco document is available here: http://www.tepco.co.jp/en/nu/fukushima-np/images/handouts_111130_04-e.pdf
On page 18, Tepco estimates that fuel from Unit 1 has melted approximately 70 centimeters into the concrete below the reactor pressure vessel. That's just a guess by Tepco, they really don't know since they can't get down there to find out. But it's probably an educated guess.
The important point is whether there is continued melting of fuel going on, and if the fuel is thus continuing to make its way through the concrete. Concrete doesn't really melt, but it crumbles at about 1000 degrees Centigrade (nuclear fuel melts around 2200 degrees Centigrade, the components of concrete--sand and stone--melt at about 2600 degrees Centigrade). Crumbling concrete would provide a pathway for melting fuel to continue through it.
But there is simply no evidence temperatures are anywhere near that high at any of the Fukushima reactors. As we reported in September (see below), even then temperatures were around the 100 degree Centigrade mark, not 1000 degrees (even accounting for the likelihood that temperatures were somewhat higher than Tepco was measuring—since it doesn't know precisely where the hottest spots are--and/or admitting). There is nothing to indicate temperatures inside the reactors have gone up since then, and indeed Tepco claims they've gone down. If temperatures were much above 100 degrees, then we would be continuing to see the kind of steam releases that were clearly visible on the various webcams set up around Fukushima (Tepco's is here:
http://www.tepco.co.jp/nu/f1-np/camera/index-j.html) a few months ago. But there is rarely visible steam anymore. And, even then, there is an enormous difference between the temperature required to create steam and the temperature required for nuclear fuel to move through concrete. And there is an even larger difference between the temperature required to create steam and that required to maintain melting of nuclear fuel.
A more likely scenario than melt-through of the concrete would be if the fuel pooled and moved sideways (rather than down) and melted through the containment walls, which are not nearly as thick as the concrete basemat. But again, temperatures are not high enough for this to be occurring at present.
So the fears of a "China Syndrome" or further fuel melting appear unfounded absent some new major component failure or natural disaster. The temperatures are not that high, and it would be impossible to hide temperatures that high. But it doesn't require a further accident to recognize Fukushima for what it already is—a disaster of the highest proportions, one that has made 3% of Japan's land mass uninhabitable and will sicken and kill many people over the years through direct exposures that already have occurred and continued exposures from the environment, from food and the like.
Tepco's document argues that only about 3% of Unit 2 and Unit 3's fuel melted to the bottom of the reactor pressure vessel (page 9, 17-18). This is where we really question the document. This is again based on calculation and estimate, since Tepco can't actually get there and see. Given than it has been believed for many months that there were breaches of the containment at both Units 2 and 3 (as well as Unit 1, which Tepco now admits), we think it likely that far more fuel than that has accumulated at the bottom of the vessels, and it wouldn't surprise us at all if in a few years we learn that molten fuel had penetrated the concrete of both of these reactors as well (remember that, in the case of the 1979 Three Mile Island accident, the utility argued for years that there had been no actual fuel melt, until they were actually able to look into the pressure vessel and find out that, oops, a whole lot of it had melted….).
In other relatively recent news, Tepco in November confirmed that the explosion at the Unit 4 reactor, which had no fuel in its core, was caused by a backflow of hydrogen gas from shared pipes with the Unit 3 reactor. This has profound implications for multi-unit reactor sites with shared components.
That Fukushima, even without further meltdown, was and is an unmitigated disaster is evident by a study from the French government-funded Institute for Radiological Protection and Nuclear Safetythat found that Tepco had greatly understated the amount of radioactive Cesium that had been released into the Pacific Ocean. According to the study, 27,000 terabecquerels (27,000 trillion becquerels) of Cesium were released into the ocean; Tepco had estimated 15,000 terabecquerels. A different study, published in the Atmospheric Chemistry and Physics journal estimated Cesium releases to the air at 35,800 terabecquerels. Fortunately for Japan, most of that—probably 80%--was blown over the Pacific Ocean rather than land. The worst of the contamination in Japan was caused by a two-day shift in the wind in mid-March accompanied by rains which brought radiation to the ground, especially to the northwest of the Fukushima Daiichi site. It is almost unimaginable what the effect would have been on Japan had the wind been blowing inland (especially south toward Tokyo) during the worst of the accident and that 80% of the radiation had fallen on land.
Meanwhile, while the worst is over absent another disaster man-made or natural, the accident does seem to continue without end. Earlier this week, between 45 and 200+ tons of radioactive water was released into the ocean from Fukushima. And Japan still refuses to evacuate people living in many contaminated areas. Some in the government want to try to clean up those areas instead—a job likely to prove fruitless (and initial attempts at cleanup bear that out http://nyti.ms/w183dX) and, worse, will cause tens of thousands of people to continue to be unnecessarily exposed to toxic radiation.
UPDATE, September 29, 2011.
Yesterday marked a milestone of sorts for the Fukushima Daiichi reactors: some six-and-a-half months after the onset of the accident, temperature levels at all of the reactors and fuel pools fell below the boiling point (100 degrees Celsius) for the first time since March 11.
But there are some caveats to that statement. The temperature at Unit 2 fell only to 99.4 degrees Celsius, and has been going up and down in recent days, so could quickly return to the boiling point. Moreover, while the reactor temperatures are measured at the bottom of the pressure vessel, it's not clear that is where the hottest temperatures are. Since fuel melted and containments failed, allowing fuel to go below the pressure vessel, temperatures below the vessel where the molten fuel has collected may remain higher than the boiling point.
Meanwhile, the cooling system that has brought down temperatures is a jerry-rigged system nothing akin to the normal cooling systems found in reactors, and its long-term reliability is in serious question. This is especially so because the region continues to suffer earthquakes (a 5.6 earthquake struck the region this morning), not to mention typhoons and other problems.
In other words, there remains some time before cold shutdown of the reactors can be proclaimed. And in the meantime, radiation releases continue, although they are reported to be a small fraction of earlier releases. They're now on the order of one million becquerels/hour (as opposed to a trillion/hour a few months ago and thousands of times more than that in March). Although, a caveat to that too: as noted below, Tepco has admitted that it doesn't really know how much radiation is being emitted--it's estimating.
A couple of reports have struck us recently. One widely reported (
here from ABC news in Australia
) is that Tepco seriously considering abandoning the Fukushima facility in mid-March when it reduced its on-site workforce to 50 people (we warned about that on the Don Imus show at the time, although we were concerned we might be a little sensationalistic; as it turns out, that's exactly what Tepco was thinking).
Another, also widely reported, is that then-Prime Minister Kan was actively considering ordering an evacuation of Tokyo in mid-March as conditions deteriorated and foresaw a potential end to Japan as a functioning nation. It may go without saying that if Tepco actually had abandoned its efforts at the time, that's exactly what would have happened.
Meanwhile, for the people of Japan, the concerns are the same they have had for months: people remain living in areas with radiation levels that would have required evacuation before Japan increased its allowable radiation levels 20 times; contaminated food—the rice harvest, which is going on now, is especially key. So far we have seen only
one report of highly contaminated rice
, although many might find "allowable" contamination levels of rice to be rather unsettling.
The other major concern of people in Japan is whether the remaining existing reactors will be allowed to restart, and the movement to prevent that is growing rapidly, as
this report from Time
yesterday indicates.
Media coverage of Fukushima, especially in the U.S., is nearly non-existent, but some coverage, especially in Asia, is fairly good. Of particular note is
a report from Bloomberg this week
that brings the human dimension to the fore.
Finally, a group of Japanese farmers and activists were in the U.S. last week to talk about the continuing effects of Fukushima. We were proud to host a dinner for them in Washington; of more general interest, however, is
this video of one of their New York presentations
. It's long, but worth watching.
UPDATE, August 22, 2011.
The
New York Times
reports
that Japan is finally getting ready to acknowledge what we have been saying in this space for months: that the Fukushima evacuation zone is an uninhabitable Dead Zone, and no one will live there again for at least many decades. An official government announcement is expected later this week.
The news follows release of a new radiation survey conducted by the government, which shows contamination levels throughout the evacuation zone to be much higher than previously admitted—up to 500+ MilliSieverts/year (50 Rems/Year) in Okuma, two miles southwest of the reactor site. This is actually about twice as high as radiation levels NIRS measured in Pripyat, Ukraine—about two miles from Chernobyl—in 1996.
But high radiation levels also were measured outside the 20 kilometer (12-mile) exclusion zone. Levels in the town of Namie, for example, 22 kilometers to the northwest of Fukushima Daiichi, were reported at 229 MilliSieverts/year—far above inhabitable levels. It is our (unconfirmed) understanding that most, if not all, of Namie previously had been evacuated, as well as some other towns even further from the reactor site. Thus, the actual Dead Zone is expected to be larger than the 20 kilometer radius.
Contamination of food in Japan continues to be a concern, and a concern that only has grown with the first report of Cesium contamination of rice, some 100 miles from Fukushima Daiichi. The rice harvest—critical to Japan—is just beginning. While the contamination levels were below "allowable" amounts, to find any contamination in rice, especially that far from the reactor site, is foreboding.
UPDATE, August 1, 2011.
Tepco reported today the highest radiation levels yet measured at Fukushima Daiichi—1,000 Rems/hour (10 Sieverts/hour)—a lethal dose. The measurements were taken at the base of the ventilation stack for Units 1 and 2 (the stack that did not work during the accident). The actual levels may have been more than measured, since the monitoring equipment could not measure more than 10 Sieverts/hour. Workers sent to the area to confirm the measurements, which were first picked up by a gamma measuring camera, received doses of about 400 millirems in just a few minutes.
All of this brings up a
lot
of questions Tepco and the Japanese government must be held to account for. It has been more than four months since the accident began. The belief is that these readings are a result of the failed attempt at ventilation in the early hours of the accident. How is it possible that Tepco is noticing this extraordinarily high reading only now? How many workers have walked by this area in the past four and a half months without realizing the kind of dose they were getting? What does this say about Tepco's, and the government's, overall radiation measurements both onsite and offsite?
Indeed, even while Tepco last week said the continuing releases from Fukushima are only a fraction of what they were in April (one billion becquerels/hour versus one trillion becquerels/hour in April) and far lower than mid-March,
Tepco also had to admit that it doesn't actually know
how much radiation is being emitted. The utility said it planned to begin tests at Unit 1 over the past weekend to try to find out what is actually being emitted from there, and will begin similar tests at Unit 2 during August. But it doesn't even plan to try tests at Unit 3 because the radiation levels are so high in that reactor.
Given Tepco's and the government's inability to detect lethal levels of radiation onsite—where there are presumably many radiation monitors available—what confidence can anyone have about offsite measurements in Japan? The role of citizen radiation monitoring has never been more crucial.
The New York Times today
has an article demonstrating this fact. It is the citizen monitors who are finding radioactive hotspots throughout north central Japan, who are demanding evacuations, who are documenting this contamination without end.
UPDATE, Tuesday, July 19, 2011.
It has now been more than four months since the accident began at Fukushima Daiichi and unfortunately no end is yet in sight. Much like last year's BP oil spill, which spewed oil into the Gulf of Mexico for months yet vanished from the major media within weeks, so has much of the major media moved on from Fukushima. But the accident continues, radiation continues to be released (though much lower amounts, of course, than initially), and the risk of new problems remains.
One immediate problem is Typhoon Ma-On, which is expected to hit Japan this week. This is a major storm that, depending on its strength and position, could cause serious problems at Fukushima, especially in terms of flooding areas already holding vast amounts of contaminated water. Tepco has put a new structure over the Unit 3 turbine building, damaged by explosion in March, to try to keep rainwater out, since the basement of the building is already holding about as much contaminated water as it can—several inches of rain could cause additional leakage into the Pacific Ocean. However, Tepco apparently will not be able to put covers over the damaged Units 1, 3 and 4 reactors themselves. Unit 3 will be particularly vulnerable to the effects of the typhoon.
Meanwhile, Tepco says it has achieved "stable cooling" of all of the reactors at the site. This might sound like good news until it is realized that Tepco does not mean the reactors are at cold shutdown. In fact, all 3 reactors with fuel in them remain above the boiling point of 100 degrees Centigrade, meaning that water continues to boil off and radiation continues to be released. Cold shutdown—bringing the temperatures below 100 degrees—is still not expected before January 2012. What Tepco really means is that it has more or less successfully set up a system for water to be recirculated through the reactors, so that constant water from outside is no longer needed. However, the recirculation system has been plagued with problems from the beginning and continues to not work at desired capacity.
That is not the case for the Unit 4 fuel pool, which continues to receive water from outside. Temperature in the pool is said to be below boiling, at 80 degrees Centigrade.
Radiation levels across north-central Japan continue to be an issue. Most recently (i.e. today), Japan has stopped the sale of beef from Fukushima Prefecture (why they ever allowed the sale is the real mystery…) and may stop the sale from other Prefectures too. At least 578 contaminated steer have been sold in recent weeks, and apparently all or almost all of it already has been consumed. The steer became contaminated by eating straw contaminated by high amounts of Cesium-137. The presence of high levels of Cesium-137, which has a 300-year hazardous life, indicates that the contamination problems in Japan will continue to plague the country for generations.
But it's not just beef and straw. Very high levels of Cesium-137 and other radioactive elements have been detected in all manners of agricultural products and soils across the region. Our friends at Green Action Japan
have posted this chart
of measurements taken last week. Of particular note are both the Cesium-137 levels far higher that allowable limits, but also the continued presence of high levels of Iodine-131. Because of its 8-day half-life, Iodine-131 released during the initial week of the accident, when extremely large amounts of radioactive materials were ejected from all the Fukushima reactors, already has decayed to background. The continued presence of high levels of Iodine-131 is a certain indicator of the radiation releases that continue at Fukushima and will continue for months to come.
UPDATE, Tuesday, June 21, 2011.
A new version of the map we posted Friday of radiation readings in Japan sheds more light on the vast contamination of the northern part of the country and new evidence that the government's response has been woefully inadequate.
The map is here
. (Warning, this is a very large—15mb—pdf file; not recommended for slow connections).
For perspective, a radiation level of about 0.19 MicroSieverts/hour is roughly equivalent to the maximum allowable radiation exposure level (1 MilliSievert/year or 100 Millirems/year
(note 0.19 actually comes out to 166 mrem/year)
for the United States. Until March 2011, that was also the allowable exposure level in Japan.
All
of the shaded spots in this map exceed that level. These include areas more than 200 kilometers (120 miles) from Fukushima Daiichi.
People in the areas in darker orange and red (above 4 MicroSieverts/hour), extending more than 50 kilometers (30 miles) from the site, would exceed even Japan's revised allowable dose of 20 MilliSieverts/year (
200 Millirems/year
2 rems/year, corrected 6/22/11)). As another perspective, people in the red area would exceed the previous annual allowable dose within a week.
Why isn't everyone in these areas being relocated?
One note of caution, however. These measurements have been taken by local governments in 18 Prefectures across northern Japan. Because these measurements have been taken by different people with varying levels of expertise, using different equipment, they may not correlate exactly and there may be some overstatement—and understatement—of the real situation. Taken together, however, they provide probably the clearest picture yet of the growing threat to public health and safety in Japan. Thanks to Greenpeace Japan for pointing us to this map.
By the way, the contamination map we posted here Friday (on which the contour map cited above is based) is available in an
updated interactive version here
. You can zoom in on specific areas, compare the map to a satellite image, and more. Very useful.
In other news, the Ministry of Economy and International Trade, which both promotes and regulates nuclear power in Japan, is considering permanent shutdown of all 10 of Japan's GE Mark I reactors (4 of which, of course, are already permanently shutdown at Fukushima Daiichi). The U.S. should do the same.
UPDATE, Friday, June 17, 2011.
There have been increasing reports of radioactive "hotspots" being found around Japan, especially in the area outside but near the evacuation zone of course, but also quite far away. For example, the
Wall Street Journal reported today
on a hotspot found in Chiba Prefecture 120 miles from Fukushima Daiichi and not too far from Tokyo. There have been reports of elevated readings in Tokyo itself, and across northern Japan.
We found the map below today on
DailyKos
which gives some indication of the extent of contamination. The areas in blue indicate slightly elevated radiation levels—high enough that a person exposed to these levels likely would receive an annual radiation dose in excess of 1 MilliSievert/year (100 millirems/year), which, until Fukushima was the maximum annual exposure level for the general public in Japan—as it remains the maximum level in the U.S.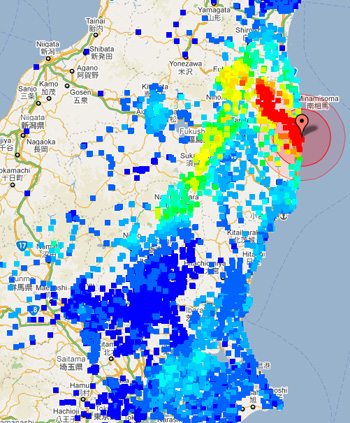 As the colors move more toward red, the levels go higher. As has been well-understood, the areas to the northwest of Fukushima Daiichi have been hardest hit—but not all those areas in red and orange have yet been evacuated—and they should be. Indeed a good argument could be made that the areas in any color other than blue should be evacuated. Of course, no one will ever return to those areas that have been evacuated.
Areas not marked with a color are not necessarily uncontaminated—they may have just not been measured yet.
And that brings us to two points about radioactive "hotspots." First, while the ongoing daily radiation releases from Fukushima certainly aren't helping things, we believe that most of the hotspots are being discovered now simply because they are finally being measured now. The high levels of radiation most likely were generated during the first week of the accident.
In other words, people have been living with these hotspots for the past three months—and are only in recent days learning about them
. And we believe many more hotspots will be discovered as measuring continues and expands. This means that the exposures to the general unevacuated population—especially internal exposures—are most likely higher than has been presumed.
The second point is, as is obvious from the map, radiation does not deposit uniformly. Indeed, there can be, and likely are, hotspots even in those areas showing relatively low contamination levels. It is not uncommon to take a radiation measurement in one location, and find a much higher hotspot just yards, and even feet, away. That is usually due to the presence of a highly radioactive particle, and short of measuring every square foot of land, it is impossible to fully measure all of the hotspots.
That's why governments must err on the side of caution, and where general radiation levels indicate that allowable limits may be exceeded, it should be presumed that those limits will be exceeded and appropriate measures—including relocation—should be implemented. That's why villages dozens and even hundreds of miles from Chernobyl, well outside the Dead Zone, no longer exist.
Instead, Japan has chosen the opposite course. Instead of taking steps to prevent unnecessary exposures, it increased the allowable limit from 1 MilliSievert/year to 20 MilliSieverts/year (2 rems/year)—an "allowable" level more commonly associated with German nuclear workers (U.S. nuclear workers are allowed to receive 5 rems/year). Even so, many people in northern Japan are likely to receive doses above 20 MilliSieverts/year because of the government's fear and failure to take necessary protective steps. And that is likely to turn out to be the real tragedy of Fukushima.
UPDATE, Tuesday, June 14, 2011.
In what can only be described as the most pathetic response to growing concern over radioactive contamination in Japan yet,
34,000 school children in the Fukushima City area will be given personal radiation dosimeters
to wear constantly. But the dosimeters won't be handed out until September, will be read by authorities only once per month and will only be used for three months. And, of course, the dosimeters won't measure internal contamination.
Japanese officials hope the readings will show relatively low contamination. That may or may not turn out to be true. Given that Japan already has raised its allowable exposure levels twenty-fold—from 1 to 20 MilliSieverts/year, "relatively low" has a different connotation, especially where children are concerned.
This report from Russian TV
, reporting from the Fukushima City area, isn't reassuring. The reporter found hotspots registering 1,000 times above background levels, and the many radiation-suit clad workers around are a lot more protected than school children…
Hotspots also have been found far from the Fukushima area
—in fact, as far as 180 miles south of the reactor site. More hotspots are likely to be found in areas that have not even been measured yet, especially to the north and northwest. This follows the same trend as Chernobyl, where the initial 30 kilometer evacuation zone has become known as the Dead Zone, but evacuations and other protective measures occurred at many locations as far as 200 miles away as the full extent of the accident became clearer.
Meanwhile, Tepco is screening workers for radiation exposure and it has found two exposed to more than 600 MilliSieverts, six to about 500 MilliSieverts, and at least 93 to more than 100 MilliSieverts. Before March 11, the Japanese limit for nuclear workers was 100 MilliSieverts/year. That was quickly raised to 250 MilliSieverts after the accident.
According to NHK TV
, Tepco is screening about 3,700 workers. But other reports indicate that nearly 8,000 people have worked at the site since the accident began.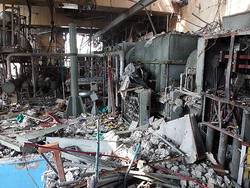 Tepco's plans to install a working cooling system for the Unit 4 fuel pool, similar to that apparently successfully installed at Unit 2, have hit a substantial roadblock. Workers were finally able to enter Unit 4 this week and discovered that the water pipe it had been counting on using is heavily damaged (as is the rest of the unit, see photo). This means that water will continue to have to be pumped into the pool from outside.
Efforts to continue work at Unit 2 have also run into trouble because of extremely high humidity (99.9%) inside the reactor building that makes working in the building virtually impossible. Tepco had thought the source was the heat from the fuel pool, but now that the pool is cooling, it has realized the source is heat from the molten reactor core in the suppression pool under the building—and that will be a lot harder to address.
Finally, if you missed the news: Italy is the latest country to chart a new path to a non-nuclear future. A referendum held June 12-13 resulted in an almost-astonishing 94% vote against more nuclear reactors in the country. 57% of eligible voters actually voted, despite government efforts to discourage turnout.
UPDATE, Thursday, June 9, 2011.
Japan admitted this week that not only did three reactors melt down (Unit 4 had no fuel in its core, otherwise it would have melted too), but that the fuel melted through the containments. Not really news: the U.S. NRC had made that assessment in the first week of April (see April 6 and 7 below).
Japan also admitted that radiation released from the initial meltdowns was at least twice what government and utility officials previously had acknowledged. Also not really news: the Austrian government had made that assessment, based on actual radiation readings rather than official pronouncements, back on March 23 (again, see below, March 23).
But the reluctance of Japan's government and Tepco to face up to the consequences of Fukushima in real time unfortunately casts doubt on everything they say even now after all their apologies have been made. Should we believe current radiation release figures, for example? Or believe that Tepco is even capable of developing and implementing a plan to finally stabilize the situation?
A good first step would be for Japan to finally publicly admit that there is a large permanent dead zone around Fukushima, which will not be habitable for centuries. In other words, evacuees will not be returning to their homes and former livelihoods. Moreover, as was the case at Chernobyl, the dead zone is likely to grow rather than shrink as more detailed radiation readings are taken and radiation continues to spew from the Fukushima Daiichi site.
Already, there are indications that
Japan will soon be evacuating
a couple more towns where hot spots have been found--30 miles (50 kilometers) from Fukushima Daiichi—far outside the current evacuation zone. The towns are Minamisoma City and Date City in the hardest-hit area northwest of the site.
Meanwhile, as Tepco continues to send robots into areas of the reactors they haven't previously entered, radiation measurements have soared, with up to 400 rems/hour (4,000 MilliSieverts/hour) reported inside Unit 1. We note that we have seen no reports of robots even entering similar areas inside Units 2 or 3, but we would expect similar or higher measurements in those much larger reactors.
Temperatures inside all three reactors remain above the boiling point (100 degrees Centigrade, 212 degrees Fahrenheit), which means that the water pooled underneath the reactors in which the molten fuel apparently sits continues to both boil off and be released to the air in the form of radioactive steam, and, because the containments have been breached, continues to leak out into groundwater, trenches, nearby buildings, and eventually the Pacific Ocean. And water must continue to be poured into the reactors lest water levels fall too greatly which would cause temperatures to rise and meltdowns to resume.
The idea of installing functioning cooling systems under these conditions (400 rems/hour is far too high to allow for the presence of workers—even with protective gear they could stay in the area only for minutes) seems far-fetched. As does the notion that this accident will be stabilized by the new year….
UPDATE, Thursday, June 2, 2011.
Concern is growing that radioactive water in the reactor buildings and other facilities at Fukushima Daiichi may again be released into the ocean. Water levels have been rising, partly as a result of continued pumping of water for cooling and partly as a result of heavy rains last weekend from Typhoon Songda, which fortunately only grazed the Fukushima site. A Tepco spokesman said today that radioactive water could begin to overflow trenches within 5-7 days.
Nagasaki
University Hospital says
that 40% of the people it sent to Fukushima Prefecture in March to assist with the aftermath of the earthquake/tsunami received measurable internal exposure to radiation, including Iodine-131 and Cesium-137.
In a new indication of just how far significant levels of radiation spread from Fukushima, Japan
today banned distribution of green tea
grown in four prefectures
southwest of Tokyo
south and southwest of Fukushima and north of Tokyo—
more than
as far as 150 miles from the Daiichi site—because of elevated levels of Cesium-137. (corrected, June 6, 2011)
Tepco has set up its own
live webcam of the Daiichi site here
. Occasional (and occasionally large) radioactive steam releases are ongoing….
Meanwhile, a top Tepco official admitted recently that it is unlikely that the situation at Fukushima will be stabilized by January, as the utility's plan, revised just two weeks ago, predicts. One positive sign however: a functioning cooling system has been installed for the Unit 2 fuel pool, and water temperature has been brought down substantially.
UPDATE, 11:30 am, Thursday, May 26, 2011.
Evidence is growing that the March 11 earthquake itself caused major damage to the Fukushima Daiichi reactors even before the accompanying tsunami knocked out offsite power and ensured the subsequent meltdowns.
According to Keiji Miyazaki, professor emeritus of nuclear reactor engineering at Osaka University, the earthquake likely damaged the high pressure coolant injection system, part of the emergency core cooling system at Unit 3 (as we reported below, it already has been believed that Unit 1 suffered severe damage from the earthquake). This system is supposed to work to cool the reactor even if power is lost, but at Unit 3, it didn't. A review of pressure readings at Unit 3 indicate that there likely was a major steam leak that ultimately led to the speedy meltdown there. Article from Asahi.com
here
.
A rough translation of remarks by seismologist Katsuhiko Ishibashi (Emeritus Professor, Kobe University, which also suggest the earthquake itself heavily damaged the reactors, is available
here
.
Tomio Kawata, a research fellow of the Nuclear Waste Management Organization of Japan,
said this week
that the soil of a large area of northwest Japan—about 600 square kilometers—is contaminated with Cesium-137 at levels higher than prompted compulsory evacuation orders in the Soviet Union after Chernobyl (1.48 million becquerels per square meter). 700 square kilometers is contaminated with levels from 555,000-1.48 million becquerels per square meter.
Today, Tepco said that some 60 tons of radioactive water in one of its makeshift storage tanks—where it has been putting radioactive water gathered from the reactors and turbine buildings—has leaked out. The leak is apparently continuing.
Greenpeace is continuing its testing of marine life 12 miles and more from the Daiichi site, this week finding seaweed with contamination levels as high as 60 times legal limits.
UPDATE, 2:30 pm, Friday, May 20, 2011.
The world's media are shocked (shocked, we tell you…) that three Fukushima reactors melted down. Where have they been the past 10 weeks? Where did they think all that radiation was coming from? You know, that radiation that has caused the evacuation/relocation of people as far as 25 miles from the reactor site? Not to mention contamination of food, seawater, etc…..
Even Tepco admitted weeks ago that 35-50% of the fuel had melted at the three reactors (U.S. Energy Secretary Steven Chu had estimated 70% melt at Unit 1); the big difference now is that it seems as if all the fuel has melted and is now a large glop at the bottom of each reactor buildi